Men's Golf
Click here for 2019 Thursday Men's Night Schedule

The Legend Men's League 2019!
Get your team of 3 together and compete in a 10 week match play round robin to determine the 2019 Champion!
Register on ForeTees!
---
$10 Game Entry - Paid Weekly!
Register on ForeTees!
---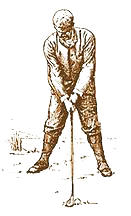 "The finest clubs, like family traditions, trace their roots to strong contributions by individuals.
These individuals create the environment in which camaraderie flourishes and new friendships begin.
These individuals are called Members."